A small percentage of personal injury cases go to court. However, that doesn't mean your case won't require court proceedings. If negotiating a settlement with the insurance company fails, you may choose to file a lawsuit and argue your case at trial.
Predicting whether you'll need to go to court is impossible. Every personal injury case is unique, with varying circumstances and factors that can affect the outcome. An experienced personal injury attorney can review your case and help you determine the best course of legal action.
Here we explain insurance companies' views on litigation, why they might prefer a trial or a settlement, and the primary reasons some cases go to court.
Insurance Carriers Often Want to Avoid Court
Insurance companies aren't in the business of helping accident victims. When you file a claim with the at-fault party's insurer, its goal is to save money by paying as little as possible or denying the claim entirely. The insurance adjuster might offer a settlement quickly, hoping the injured party will accept.
Negotiations are often strategic. When a claimant doesn't have a lawyer, settling for an inadequate amount is easier. However, claimants with lawyers have the necessary resources to negotiate for the compensation they deserve. Often, the insurance carrier wants to avoid going to court. That's because settlements are much cheaper than a jury verdict favoring the plaintiff. 
When possible, the insurance company avoids trial for multiple reasons, including:
Damaged reputation – Court cases are public records. Anyone can search for legal documentation, such as any financial awards paid to the plaintiff. Settlements are often private. The insurer might want to settle to keep the matter behind closed doors and protect its reputation.

Higher compensation – Juries often sympathize with accident victims fighting big insurance companies for money to compensate for their injuries. Going to court means the jury might see the insurer as the bad guy and side with the plaintiff, especially if they serve as a reliable and likable witness. That could lead to higher compensation awarded to the plaintiff, costing the insurance carrier much more than if it chose to settle.

More expensive – Court cases are more costly than insurance claims. Instead of only paying a settlement in a claim, the insurance company must pay attorneys' fees, court costs, case-related expenses, and other litigation bills in court proceedings. They must also pay a monetary award if the jury rules in the plaintiff's favor. It's cheaper to settle.
Why Do Some Personal Injury Cases Go to Court?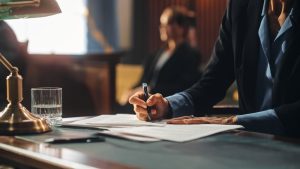 You might have to prepare for a trial despite many personal injury claims settling outside court. The most common reasons an insurance company would rather take its chances in court than offer a settlement include:
Severe injuries requiring significant compensation – Extensive treatment is necessary if your injuries are severe. That means expensive medical bills. The insurance carrier doesn't want to pay the maximum available policy limit. They might try to reduce the value of your claim and decide they would rather go to court to prevent paying a settlement.

Unclear liability – Sometimes, liability is evident after an accident. For example, if you get hurt in a car crash with a drunk driver, the other driver is likely liable for your injury. The insurance carrier might accept its policyholder is at fault and pay your claim. However, some situations require a more thorough investigation to determine who is liable. Going to court is more likely if the insurer thinks the judge or jury will side with them.

Disputed injuries or severity – After an accident, you should seek medical attention, get a diagnosis, and determine the treatment you need to heal. The medical records you collect can prove the type and extent of your injury. However, the insurance carrier might dispute the severity. They can use various tactics to disprove your injury or argue against the limitations you claim to have. They might prefer courtroom proceedings to present the evidence proving your injury is minor and doesn't require the compensation you seek.

Preexisting conditions – The insurance carrier can obtain proof of your injury resulting from a preexisting condition. You might have a back injury from years before and hurt your back again during the accident. The insurer can argue that your symptoms are due to your preexisting condition instead of a new injury. Facing you in court seems like the better option because they can present your prior medical records to establish your injury occurred under different circumstances.
Injured in an Accident? Call The Yates Firm Now
The Yates Firm has years of experience protecting the rights of injured clients in South Carolina. Our attorneys fight insurance companies so accident victims can focus on healing. You can count on us to provide the personalized attention and guidance you need to get through this traumatic experience.
Call us at 843.692.3237 for a free consultation if you sustained injuries in an accident due to someone else's negligence.