We Deal With The Insurance Company
So You Can Focus
On
Recovery
MYRTLE BEACH ATTORNEYS OF THE YATES FIRM
Conway Truck Accident Lawyers
At The Yates Firm, we know the aftermath of a truck accident can be scary. An attorney can help if you sustained injuries in an accident due to a negligent truck driver, trucking company, or another party. They can seek the compensation you deserve for your losses.
Commercial trucks like tractor-trailers are massive. Crashes often lead to devastating injuries and fatalities. Pursuing legal action requires an experienced lawyer due to the complex nature of this type of case. 
We offer the personal touch of a small law firm with the resources and knowledge of a big firm. At The Yates Firm, you will receive one-on-one attention from start to finish. Call us at 843.692.3237 for a free consultation with one of our dedicated Conway truck accident lawyers for more information.
Common Types of Truck Accidents
Numerous factors can lead to an accident with a commercial truck. Some collisions occur at intersections when a truck driver runs a red light. Others result from trucks weaving in and out of traffic on a highway.
The most common types of truck accidents include:
Jackknife accidents – A truck jackknifes when the cab and trailer swing toward each other at an angle. It can occur if a truck driver brakes improperly or maneuvers incorrectly, causing a sudden shift in momentum and direction.
Override and underride accidents – An override truck accident occurs when the cab of a truck runs over the back of a car in front of it. An underride truck accident occurs when a vehicle smashes into the side or back of the trailer, sliding underneath.
T-bone accidents – Intersections are common locations for T-bone collisions. A trucker might blow through a stop sign or fail to yield to another driver, colliding with the side of a car in their path.
Rear-end collisions – Rear-end collisions can occur for multiple reasons. Tailgating and cutting directly behind another vehicle can lead to an accident if the driver stops or slows down and the trucker can't brake in time.
Head-on accidents – A head-on collision can be deadly. A truck driver might drift into oncoming traffic and not realize their mistake until it's too late. The violent force of the impact can lead to life-threatening or fatal injuries for the occupants of the smaller vehicle.
Rollover accidents – Rollover accidents are common with large vehicles. Commercial trucks have a high center of gravity, making them more susceptible to rolling.
Common Causes of Truck Accidents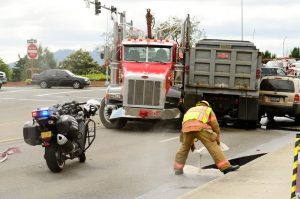 Human error often leads to accidents. The truck driver isn't the only party responsible for other people's safety. Their employer must also take the necessary precautions to prevent collisions. For example, they should conduct background checks before hiring new truckers.
The most common causes of truck accidents include:
Tailgating

Inadequate truck maintenance

Failing to check blind spots

Distracted driving

Speeding

Loading cargo incorrectly

Fatigued driving

Failing to yield the right of way

Driving under the influence
Common Injuries in Truck Accidents
A commercial truck can cause catastrophic injuries in accidents with other vehicles. The most common injuries include:
Paralysis

Whiplash

Broken bones

Internal bleeding

Loss of limb

Deep lacerations

Burn injuries
Possible Compensation After a Truck Accident
You can file a claim or lawsuit against the negligent party to seek compensation. The money you potentially receive might compensate for your:
Lost future earnings

Surgeries, rehabilitative services, prescriptions, and other medical expenses

Pain and suffering

Loss of enjoyment of life

Emotional distress

Property damage
What Is the Deadline to File a Lawsuit?
You can sue the liable party but must file your lawsuit within a specific timeframe. South Carolina has a statute of limitations allowing a three-year timeframe to file. That means you have three years from the accident date to initiate your lawsuit.
Steps to Take After a Truck Accident
The steps you take after getting hurt in a truck accident can affect your case. You should seek immediate medical treatment even if your injury is minor. A doctor can diagnose your injury and recommend a treatment plan. You must follow their recommendations until your medical providers release you from their care.
Deviating from the treatment plan, skipping appointments, or delaying initial medical attention isn't only detrimental to your recovery. It can also reduce your negotiating power with the insurance company. Insurance companies want to avoid paying claims. If they see inadequate or inconsistent treatment in your medical records, they might deny your claim or offer a lowball settlement.
You should keep copies of your records. Maintaining medical evidence, such as hospital reports, imaging test results, and billing statements, can benefit your case. It might help prove the injury you sustained and your incurred costs to justify the compensation you seek.
Consult The Yates Firm soon after the accident and hire one of our Conway truck accident lawyers. You should not proceed with action against a truck driver or trucking company without legal representation. We can determine who is responsible and obtain the available evidence to prove your claim.
Avoid posting to social media during your ongoing case. Sharing photos or posting comments about the accident can be detrimental. The defense lawyer or insurance adjuster can use your social media accounts against you if they find damaging information. They might be able to disprove the extent of your injury and reduce the value of your case. The best decision is to stay off social media and avoid online discussions about the case until it ends.
Seek Justice with a Dedicated and Skilled Attorney
The Yates Firm advocates for accident victims and aggressively brings legal action against at-fault individuals and companies. Our personal injury lawyers will fight to hold the negligent party accountable for their actions and pursue the compensation you deserve.
If you got hurt in a truck accident someone else caused, call us at 843.692.3237 for a free consultation with one of our Conway truck accident lawyers. Our legal team available 24/7 to take your call.