We Deal With The Insurance Company
So You Can Focus
On
Recovery
MYRTLE BEACH ATTORNEYS OF THE YATES FIRM
Conway Motorcycle Accident Lawyers
Did you recently get hurt in a Conway motorcycle accident because of another party's bad behavior? Are you struggling to cover your medical expenses and make ends meet while you're too hurt to work? If so, don't lose hope. Take action by filing a motorcycle accident claim with the help of The Yates Firm.
With a successful claim, you could hold the at-fault party responsible and recover fair compensation for your losses. The knowledgeable personal injury lawyers at The Yates Firm can help. We have years of experience delivering outstanding results for our clients and are ready to do the same for you.
To learn more about your legal options after a motorcycle wreck in Conway, South Carolina, please read on or contact our firm for a free initial case evaluation.
Do I Need a Motorcycle Accident Lawyer?
You should always hire a knowledgeable attorney after getting hurt in a motorcycle accident. That's because a lawyer can help you by:
Assessing the value of your claim and demanding fair compensation for your losses

Identifying all possible sources of compensation for your injury claim, including insurance policies, government benefits, and third-party liability claims

Reviewing your insurance policy to ensure you receive all of the benefits you're entitled to

Explaining your legal rights and helping you avoid common pitfalls that could harm your case

Investigating the motorcycle accident and gathering important evidence to support your case

Working with medical experts to determine the likely causes and consequences of your injuries

Handling all communication and correspondence with insurance adjusters and other parties, freeing you from the stress and hassle of having to deal with these matters yourself

Representing you in court and presenting a solid case to a judge or jury if necessary

Anticipating counter-arguments from the other side and preparing your case accordingly

Allowing you to focus on recovering and getting back to your life by handling all the legal details
Types of Motorcycle Accident Cases We Handle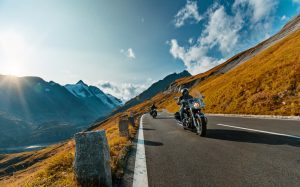 At The Yates Firm, we can handle all types of motorcycle accident injury cases, including those stemming from the following kinds of common motorcycle wrecks:
Lane-change accidents

– Accidents that happen when drivers change lanes without noticing or yielding the right of way to motorcycles in neighboring lanes.

Left-turn accidents

– Collisions involving left-turning motorists who collide with motorcyclists going straight or passing through intersections.

Rear-end collisions

– Wrecks that occur when cars hit motorcycles from behind or vice versa, often because one driver is following too closely or driving while distracted.

Head-on collisions

– Devastating crashes that happen when a car or truck veers into oncoming traffic and collides front-first with a motorcycle traveling in the opposite direction.

Intersection accidents

– Accidents involving a car or truck driver who fails to yield the right of way to a motorcycle rider at a stop sign, red light, or intersection.

Dooring accidents

– Common motorcycle crashes that happen when a driver or passenger opens a car door into the path of an oncoming motorcycle.
Common Motorcycle Accident Injuries
Motorcyclists have little protection in the event of a crash. Unlike vehicle occupants, bikers don't have steel frames, safety belts, or airbags to shield them from the worst. As a result, motorcycle accident victims commonly sustain the following types of severe injuries:
Head and neck injuries

Facial scarring and eye injuries

Jaw and tooth injuries

Traumatic brain injuries (TBIs)

Nerve damage

Bone fractures

Joint injuries

Soft tissue strains

Muscle sprains

Tendon or ligament tears

Permanent disfigurement

Internal injuries and organ damage

Crushing and twisting injuries

Rib and chest injuries

Neck and back injuries

Arm and shoulder injuries

Elbow and wrist injuries

Hand and finger injuries

Hip, leg, and knee injuries

Ankle and foot injuries

Bruising and lacerations

Road rash and other abrasions

Thermal and chemical burns
How Much Is My Motorcycle Accident Case Worth?
No two motorcycle accidents are alike, so every motorcycle accident case is unique. The value of your Conway motorcycle accident case could vary based on one or more of the following factors:
The severity and nature of your injuries

The cost of any medical treatment and ongoing care you need

The extent of any damage to your motorcycle

How your injuries affect your ability to work

The value of any lost income or job benefits

Your age, occupation, and earning capacity

The insurance policies carried by at-fault parties

Who is at fault for the motorcycle accident

Whether multiple parties are at fault for the accident

The willingness of each party to settle out of court

The skill and experience of your injury lawyer
Depending on the circumstances, you could recover compensation for the following types of personal and financial losses from a successful motorcycle accident claim:
Past and future medical expenses

Incidental, out-of-pocket costs

Lost wages from missed time at work

Losses in your future earning potential

Subjective losses, like lost quality of life

Motorcycle repair or replacement costs
Why Choose The Yates Firm to Handle Your Motorcycle Accident Case?
If you've recently been in a Conway motorcycle accident and need assistance with your injury claim, look no further than The Yates Firm. Our experienced team of local attorneys is here to help you seek the compensation you deserve for your losses.
We understand how overwhelming it can be to navigate an injury case while you're still recovering from painful motorcycle accident injuries. That's why we're here to guide you every step of the way, from your initial consultation session all the way through to a final settlement or trial. We pride ourselves on our attentiveness and compassion, and you can count on us to keep you supported and informed throughout the legal process.
So, don't let the stress of a motorcycle accident injury claim weigh you down. Let The Yates Firm handle every aspect of your case while you focus on your recovery.
Contact a Motorcycle Accident Lawyer in Conway, South Carolina
Don't let a motorcycle accident derail your life. Our team of experienced attorneys is here to fight for your rights and demand the compensation you deserve. Contact us today for a free consultation to discuss your motorcycle accident case with a seasoned Conway injury lawyer.