We Deal With The Insurance Company
So You Can Focus
On
Recovery
MYRTLE BEACH ATTORNEYS OF THE YATES FIRM
Conway Premises Liability Lawyers
Did you suffer an unexpected, preventable injury on someone else's property in Conway, South Carolina? If so, you're not alone. Every year, thousands of innocent people get hurt on dangerous property through no fault of their own. The good news is that you don't have to suffer in silence after a premises liability accident. You can work with a Conway premises liability lawyer from The Yates Firm to hold at-fault parties accountable and demand fair compensation for your losses.
To learn more about your options after a premises liability accident in Conway, please keep reading or contact our personal injury lawyers for a free initial case review.
Do I Need a Premises Liability Lawyer?
If you get hurt on someone else's property in Conway, you could incur substantial medical costs, lost income from missed time at work, and encounter other personal and financial stressors as a result. Without the help of a knowledgeable lawyer, you could get stuck scrambling to handle everything on your own and paying for your losses out of pocket.
That's why you should always hire a premises liability lawyer after an unexpected injury on another party's property. A Conway premises liability lawyer can help you recover by:
Explaining the laws and regulations that apply to your premises liability case

Investigating the circumstances of your injury to locate, gather, and preserve valuable evidence

Determining who is liable for your injuries and identifying all possible sources of compensation

Handling all of the legal legwork for your case while you focus on healing from your injuries

Interviewing witnesses who saw you get hurt for helpful statements that support your case

Working with expert witnesses like accident reconstruction specialists to obtain useful testimony

Communicating with property owners, insurance companies, and other parties on your behalf so you don't have to worry about accidentally incriminating yourself or damaging your claim

Negotiating aggressively on your behalf to demand the best possible settlement for your injuries

Taking your case to court and representing you at trial if the other side refuses to compromise
Why Choose The Yates Firm to Handle Your Premises Liability Case?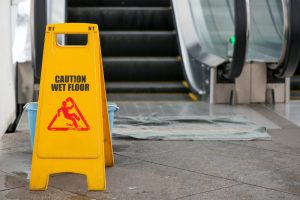 When you suffer an unexpected injury on someone else's land, you deserve help from a lawyer who will protect your rights and negotiate aggressively for the compensation you need. At times like this, you should turn to The Yates Firm because of our:
Experience – Our attorneys have extensive experience handling all types of personal injury cases, including premises liability claims. We know how to investigate these cases thoroughly and negotiate with the insurance companies to get you the best possible settlement.
Strong track record

– We have a

strong track record of success

, having won numerous six- and seven-figure settlements for our clients. We've helped countless local injury victims pursue compensation for their losses, and we're ready to do the same for you.

Small firm culture

– At The Yates Firm, we have the resources of a big corporate firm, but our team takes pride in the small firm culture we provide. We build genuine relationships with our clients and keep them involved throughout the entire legal process.

Personalized touch

– We offer the personalized, down-to-earth touch of a small firm with the knowledge and resources of a large one. Our smaller size means we're consistently responsive and dedicated to meeting our clients' needs.

Local knowledge

– Our attorneys are from this area. We know the community, the legal system, and local professionals who can help us seek the best outcome possible on your behalf.

Compassion

– We understand that you're going through a difficult time as you heal from the premises liability accident. When you come to us for help, you can count on us to treat you with compassion and do everything we can to make the legal process as easy as possible.

Aggressive representation

– We're not afraid to stand up to insurance companies and property owners who refuse to take responsibility for their wrongful behavior. If the other side refuses to agree to a reasonable settlement, we'll fight aggressively for the compensation you deserve.

Affordable fee structure

– We understand that you might not have much room in your budget after a premises liability accident leaves you with painful and costly injuries. That's why we work on a contingency fee basis, meaning you don't owe us anything unless we win money for you.

Free consultations – We know choosing a lawyer is a big decision, so we offer free consultations to all prospective clients. When you contact us for help, we can listen to your story, assess your case, and give you an honest rundown of your legal options.
Types of Premises Liability Cases We Handle
At The Yates Firm, we accept all types of premises liability cases in Conway, including those that involve:
Slip, trip, and fall accidents

Negligent security incidents

Dog bites and animal attacks

Swimming pool accidents

Drownings and near-drownings

Elevator and escalator accidents

Staircase and step accidents

Toxic exposure incidents

Falling and flying object accidents

Fires and explosions

Structural collapse incidents

Electrocutions and electric shocks

Accidents due to a lack of warning signs

Parking lot and garage accidents

Inadequate lighting incidents
How Much Is My Premises Liability Case Worth?
It depends. The value of your premises liability case can vary significantly depending on numerous factors, including how the accident occurred, the severity of your injuries, and who is liable. With the help of a knowledgeable premises liability lawyer, you could recover compensation for the following types of injury-related losses:
Past and future medical expenses

Incidental, out-of-pocket costs

Lost income from missed time at work

Lost earning capacity due to permanent injuries

Subjective losses like pain and suffering
Contact a Premises Liability Lawyer in Conway, South Carolina
If you got hurt in a Conway premises liability accident, get the help you need right away. Contact The Yates Firm as soon as possible to begin a free consultation session with our experienced team. Let our personal injury attorneys stand up for your rights and help you move forward along the path of recovery.