When a personal injury lawyer offers you representation, they agree to take on a serious responsibility, working on your behalf for the compensation you need. It's your right to choose a lawyer who will represent you with the utmost candor, compassion, and diligence. If your lawyer doesn't hold up to their end of the representation agreement, you can switch to a new legal team in most situations.
Situations When You Should Switch
You might lose confidence in your lawyer for a variety of reasons. You should begin the search for new representation if any of the following apply to your case:
The lawyer doesn't communicate with you

– As your lawyer builds your case, finds new information, and participates in negotiations, they should keep you updated through phone calls and emails. If they don't communicate with you or take too long to respond to your questions, it might be time to think about getting a new lawyer who communicates efficiently and effectively.

The lawyer is disorganized

– While everyone makes mistakes, personal injury lawsuits demand precision and accuracy for success. If your lawyer acts scatterbrained about important deadlines or makes obvious mistakes in documents they file, consider whether another lawyer would be better for you.

The lawyer doesn't have the experience you need

– If an attorney isn't experienced in the courtroom or well-versed in the law surrounding your case, it's in their best interest to refer you to another attorney. If you don't receive a referral, it's in your best interest to look for a more experienced attorney.

Your case hasn't been successful

– Personal injury cases are not instant, and it could take months or years from the beginning of the case to the end. Discuss your feelings with your lawyer if you believe your case has come to a standstill. You could consider switching lawyers altogether if you can't reach a resolution.
When Can Someone Not Switch Attorneys?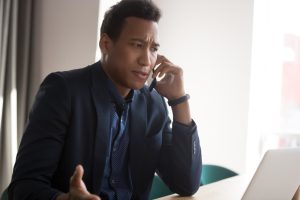 There are two situations where someone cannot change lawyers or where "substituting counsel" becomes more difficult.
The first situation is when the lawyer you'd like to switch to has a conflict of interest. Lawyers must turn away a case if it forms a conflict of interest because it could divide their allegiances, add bias to proceedings, and harm their duties to their clients. Conflicts can arise under many different circumstances, but a few common ones include the following:
A lawyer or their firm represents or previously represented another party to the case

A successful outcome in your case would harm a current or former client of the lawyer's firm

A lawyer previously worked with protected information that would impact your case
Under limited circumstances, a lawyer with a conflict of interest could still represent you if you sign a waiver. However, if a lawyer knowingly represents you despite an unwaived conflict of interest, they could face professional sanctions.
The second situation happens after someone files a personal injury suit. If you'd like to switch lawyers immediately before or during a trial, you will need court approval first. It takes time for a new lawyer to get on board with developments in your case, and the court must ensure that this process does not cause delays to the proceedings. The earlier you switch lawyers, the more straightforward the process will be.
How Does Someone Switch Attorneys in South Carolina?
The process to switch attorneys will depend on the status of your case. 
If you haven't filed a lawsuit yet, you can begin to negotiate a representation agreement with another attorney. Once you've reached an agreement, your new lawyer will prepare a written termination notice notifying your old lawyer of the switch. They'll also obtain your case file to get up to speed on your evidence and arguments.
If you've already filed your lawsuit, your old lawyer must file a motion to withdraw themselves from the case after they receive the termination notice. As your new lawyer receives case files and other necessary information, they will submit a motion for "substitution of counsel," asking the court for formal permission to represent you in your case.
An old lawyer might place a lien on any settlements or damages your new lawyer wins for you. This amount, like other liens, is negotiable, and your new legal team will attempt to minimize the amount you owe.
Call The Yates Firm for a Consultation
Are you dissatisfied with your current legal team in South Carolina? Since 2014, the Myrtle Beach personal injury attorneys of The Yates Firm have fought for clients in personal injury and malpractice matters. In a free consultation, we can offer you a legal "second opinion" and answer your questions about how the substitute counsel process works. Contact our office today at (843) 692-3237.
Related Posts: