It depends on the policy. Typically, renters' insurance provides coverage in certain situations. The insurance company might pay for your medical treatment and related expenses if you get hurt on someone else's property.
However, policies often contain provisions and restrictions that prevent you from seeking a settlement in an insurance claim. Knowing what is and isn't covered by renters' insurance is crucial. You might be entitled to compensation if someone else is at fault for an accident on commercial or residential property.
The Basics About Renters' Insurance Coverage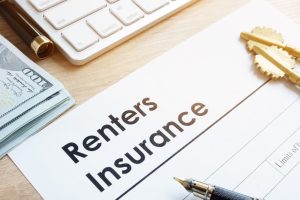 A homeowner or business owner might purchase liability insurance to protect themselves from injury and property damage claims. Instead of paying compensation themselves, their insurance company will handle it.
Renters' insurance is also available if someone rents a home or office space. Personal liability coverage is often a standard form of coverage included in a renters' insurance policy. It covers expenses arising from another person's injury or property damage if the policyholder is legally responsible for the incident.
Specifically, the coverage can repair or replace damaged personal property, pay for medical bills, and cover legal fees. However, renters' insurance won't pay for injuries resulting from intentional injury or damage. For example, if evidence shows a guest purposely fell to collect insurance money, the insurance carrier likely won't pay a settlement.
What Does Renters' Insurance Cover?
Covered accidents depend on the specific renter's insurance policy, but many will pay for:
Slip and falls – A slip and fall occurs when a person slips on a hazard and gets hurt during a fall. The insurance carrier only provides coverage for a slip and fall if the policyholder is liable. That means the business owner or renter must have contributed to the dangerous conditions on their property and failed to warn their guests of potential hazards. For example, a grocery store owner can be at fault for injuries if they know of a recently mopped floor and fail to put warning signs around it.
Dog bites and attacks – Dog bites can be severe and expensive injuries. Even minimal physical damage can require some form of medical attention. Victims often don't know if the dog has rabies or another virus that can lead to an infection. Cleaning the wounds and receiving various shots are necessary. Renter's insurance will likely cover a dog bite injury if it happens in a public location or lawfully in a private place. However, some insurance carriers won't pay for expenses if the dog is a specific breed, such as a pit bull.
Injured workers

– If you're on someone else's property performing your job and get hurt, the business owner's renter's insurance might cover your incurred costs. The owner is only liable if they are negligent in causing dangerous working conditions that led to your injury.

Fallen tree

– Renters might be responsible for maintaining the property they rent. If a tree falls and injures someone, the tenant can be liable. However, liability only falls on the renter if the lease agreement states that it is their job to maintain the property. The property owner might be at fault if they're supposed to keep the area in good condition. If the property owner is liable, you'll have to file a claim with their insurance carrier instead.

Fires – Fires can result from faulty electrical wiring, building code violations, and other negligent actions. You can file a renters' insurance claim if the business owner or tenant contributed to or failed to address the problems resulting in a burn injury.
Circumstances Renter's Insurance Does Not Cover
Liability coverage in a renters' insurance policy won't pay for intentional property damage or injuries. However, the same rule can apply to accidental damage and injuries. The most common scenarios not covered by renters' insurance include:
Injury from a home business – When someone runs their business from home, renters' insurance won't cover a visitor's injuries even if the tenant is at fault. Instead, you must file an injury claim with their professional liability insurer if they have a policy.
Injury from another resident

– If your roommate injures you, filing a claim with their renter's insurance company might not get you the compensation you need. Typically, policies only cover injuries to people who don't live on the leased property.

Injury from a motor vehicle

– You can't go through renters' insurance if you get hurt while using someone else's car. Filing a claim with the at-fault driver's auto insurance carrier is a better option.
Contact The Yates Firm Today
At The Yates Firm, we take pride in helping injured clients in South Carolina get back on their feet after an unexpected accident. You are entitled to compensation if your injury is due to someone else's negligent conduct. Our legal team can represent you in your personal injury case and fight to hold the at-fault party liable.
If someone is responsible for your injuries on their property, call the Myrtle Beach personal injury lawyers of The Yates Firm at (843) 692-3237 for your free consultation.
Related Posts: